Our Revered Founder
Sardar Bahadur Sardar Balwant Singh Butalia (1850-1915) reteired District & Sessions Judge, Gujranwala, (now in Pakistan) was the founder of S.B.S. Senior Secondary School, karnal.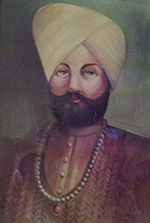 He was the son of sardar Nihal Singh, the then governer of lahore in the regime of Maharaja Ranjit Singh. He set up a society (registered under the societies Registrations Act XXi of 1860), to look after the education of needy boys, girls and women. The school came into existance at, Gujranwala named as lstry Sahayak Vidyalya. After partition, this institution shifted to karnal and was named after the founder as S.B.S. Modern High School. It has been affiliated to C.B.S.E. since 1.5.1985. This institution owes a debt of gratitude to its illustrious founder. He visualized the importance of education as a tool to success and removal of ignorance and poverty.
Sardar Bahadur Sardar Balwant Singh was a scion of a great punjab chief, Sardar Jhanda Singh, in appreciation of whose services Maharaja Ranjit Singh "Sher-e-Punjab" appointed him as the Governer of Attok Fort (Pakistan) in 1836 under General Hari Singh Nalwa (The Punjab Chief Vol.II Page 137, 1890 by Griffin). Sardar Bahadur Sardar Balwant Singh was a great patriot and visionary. He dedicated 7000 Acres of land out of his estate for the trust set up by him. He was all compassionate for the poor and needy widwos. As per his will dated 8.6.1912, several widwos are receiving subsistence allowance of Rs. 300/- to 700/- per month irrespective of their caste or creed.
Deserving orphans are helped through scholarships. Meritorious students of the school are granted Scholarships. Ever since the partition of the country, the society has been rendring services to his great town KARNAL named after the legendary "KARNAL".
We pay our homage to the great benefactor and celebrate the Founder's Day with deep respect on 23rd September every year.